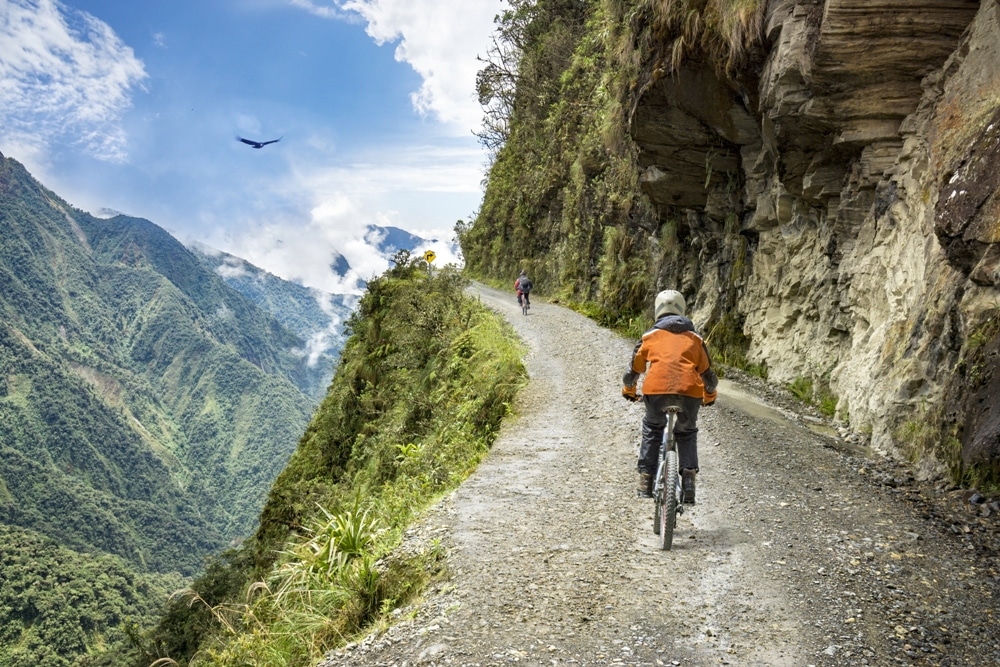 Sometimes the best vacation is the journey to your destination. Well, maybe not, but sometimes that plane ticket just isn't worth the extra cost when you only need to travel few hours away. No matter where in the world you are, driving is a major part of travel that comes with its own list of risks. Accidents, careless drivers, or being lost are just some of the threats that can endanger your life. To help make things a little easier, Tourico Vacations has compiled a list of the most dangerous roads in the world. So buckle up, and let's get started.
Old Yungas Road in Bolivia, aka "The Death Road", is a forty-mile stretch of road that is considered to be the most dangerous in the world. Linking La Paz to Coroico, Old Yungas claims more than 200 lives per year. Huge cliffs and sporadic sharp turns prove difficult for everyone, no exceptions.
Much longer than Old Yungas, the Karnali Highway in West Nepal covers over a hundred and fifty miles of the Himalayas. With nothing more than a dirt road, drivers are forced to combat steep hills and numerous potholes, not to mention sliding off. It may not pose the same danger of falling from a great height, but why risk it.
The Atlantic Road in Norway is actually considered one of the most scenic road trips in Europe. However, with eight different bridges stretching along the ocean constantly being weather-beaten by massive storms, one might choose to reconsider this path.
Though the Vitim River Bridge in Siberia had never claimed a life, it could be attributed to the lack of bravery among drivers. With a dangerously narrow width, shoddy craftsmanship, and no railing it's no wonder why this road is said to be one of the scariest in the world.
Coming in as one of the steepest roads in the world is China's own Guoliang Tunnel Road. At one mile long, this tunnel offers a measly fifteen foot high, twelve foot wide opening with thirty different windows carved into the cliff. It boasts many beautiful sites, if you're brave enough.
Popular on the show Ice Road Truckers, the four hundred and fourteen mile stretch of road linking the Arctic Sea oil fields and civilization in Alaska is known as the James Dalton Highway. During winter, high winds and an abundance of ice turn this long highway into the worlds longest Slip'N Slide.
Making the list not because of its geography but rather its dense population is Commonwealth Avenue in the Philippines. This normal seven and a half mile road, known as "Killer Highway", claims thousands of lives per year due to its eighteen lanes of pure traffic hell.
Federal Highway 1 in Mexico would be scary enough given its one thousand miles of rocky cliffs and snaking paths. However, the fact that drivers are not required to pass a driving test in six different Mexican states makes it all even more terrifying.
Ten miles, ten thousand feet above sea level, no guardrails, and it's all gravel? Must be the Nanga Parbat Pass in Pakistan. Don't forget to watch out for that incredibly steep six-mile ascent.
Yes it's steep, on a cliff, and prone to severe weather that all cause major accidents. The scariest part of these two thousand seven hundred miles of road that make up Brazils "Highway of Death", would be the fact that it runs through the sketchiest parts of the country. Sure the BR-116 is stable enough to drive on, but gangs and bandits are waiting around every corner!
Again at nearly ten thousand feet in the air, the Stelvio Pass that runs through the Alps of Italy offers life-defying views. With 180-degree turns, low barriers, and severe winter weather, this roads scenery is not for the faint of heart.
Finally wrapping up to the end of this list is the Kabul-Jalalabad Highway in Afghanistan. Outsiders may find this name fun to say, but the severity of the consequences resulting from the Taliban that frequent this area is no joke. Ignoring that both the narrow mountain passes and huge trucks could cause major accidents, this road still seems too dangerous to risk.
After all is said and done… It might be better to just fly.