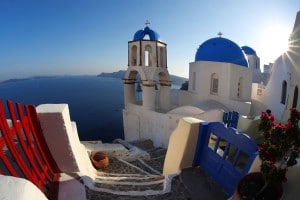 The island of Santorini or classical, Thera is one of the most well-known and recognized Greek Island's in the Aegean Sea. The largest of its group known as the Cyclades, the fairly small island is just 120 miles off the coast of Greece and only 28 square miles in size and home to roughly 16,000 residents.
Like all of Greece, Santorini has an incredibly long history which is a unique blend of history, legend and lore all rolled into one. Iconic from start to finish, you can't help but find yourself being inspired before you even arrive on its shores. From its multicolor cliffs to its bright white homes and icy blue roofs, there truly is nothing like the spectacle that is Santorini.
While many of the towns on Santorini are quite busy year round, each experience, despite the crowds, is unique. From the cliff-town of Fira and its large crowds to the smallish resort town of Imerovigli or the traditional views of Megalochori a much older and more traditional village, there is a little something worth exploring in each one.
While there is something to be said for skipping the touristy sites in some destinations, this may be ill-advised in a destination whose tourist sites are parts of our most ancient and best preserved history. For example, Akrotiri is a prehistoric settlement on Santorini and one of the most popular sites. A link to our ancient past, it and the museums related to these and other finds are a must for any visitor.
Greeks love their food and their wine, both of which you will not want to miss no matter how long you visit Santorini. The volcanic soil of this once massive caldera provides rich nutrients for fresh fruits and vegetables found in traditional foods and wines on the islands. If you are looking for the most traditional of these, make sure you try the assyrtiko, the Tomataki and the Katsouni.
Lastly, but not necessarily the end of your journey, you must find time to explore the beaches of Santorini. Famous around the world, these stunning beaches offer unique characteristics ranging from black and red and to rocky cliffs or bright white sands the color of snow.
The world is filled with beauty and an abundance of unique and amazing destinations, foods and more. Greece is one of the many areas which you must simply see for yourself to believe. From natural bounty to rich history, you will be glad you did.