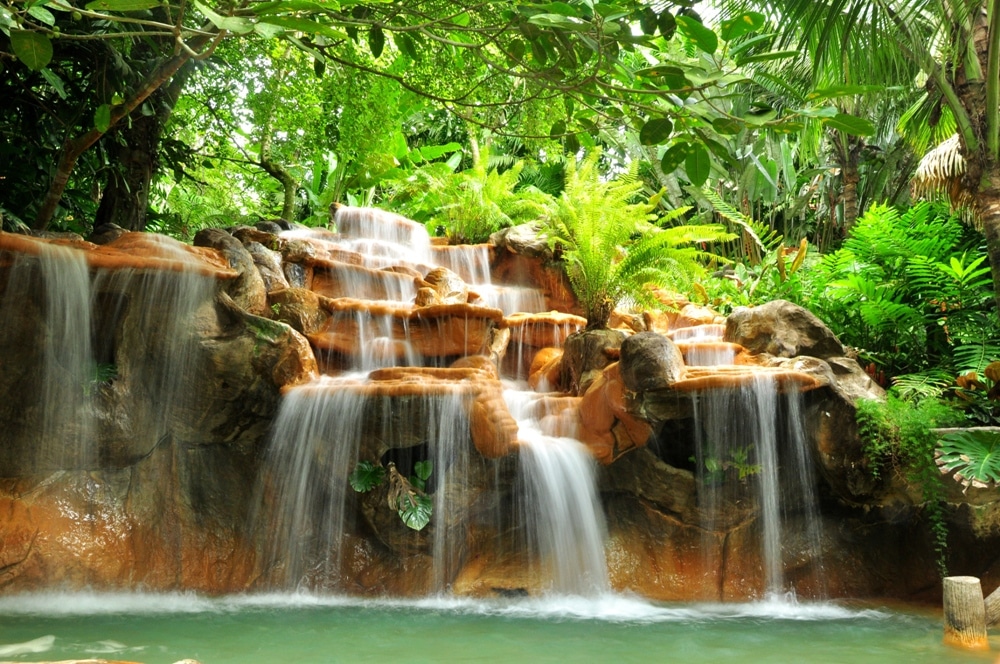 Tabacon Resort Hot Springs in Arenal – You can visit natural hot springs around the world. Yellowstone might be the most famous of these natural geophysical features, but these naturally heated groundwater locations exist anywhere you find a discharge point. One of the most impressively beautiful natural hot springs is located in Costa Rica's Arenal at Tabacon Resort. The resort is an eco-friendly one, contributing a zero-footprint everywhere possible.
The Tabacon Resort is situated at the base of Arenal Volcano. This amazing resort has five different thermal pools and various others scattered around the property. The waters in the thermal pools are gravity-fed and flow in temperatures from 77 degrees Fahrenheit to 122 degrees. The less heated pools are rather comfortable, but the hottest one might take some getting used to. But even if you're not able to put much more than your big toe in the water, you'll be mesmerized by the toucans flying overhead and other wildlife nearby.
If you are a guest of the Tabacon Resort, which costs about $200 per night, access to the thermal springs is free. If you're just visiting for the day, it's about $90 for a full-day pass. With the day pass, you can access all of the resort's pools for the entire day. It's worth it to just go ahead and rent a suite, though, because the resort's other plentiful amenities are incredible, like the resort's restaurant and bar. The chef serves up Costa Rican specialties, as well as other items – they even have vegan and vegetarian items on the menu!
After you check in and drop your luggage at your suite, head straight to the springs – that is, if you're not tempted to go exploring the rainforest. The bridges built throughout create a fun maze, where everywhere you look the scenery is visually stunning. The largest pool offers a bar at the edge of the pool serving up cocktails with umbrellas to solidify your "island experience". What could be better than relaxing your cares away with cocktails within swimming distance.
Enjoy your getaway from the day-to-day routine and visit Arenal's Tabacon Resort.