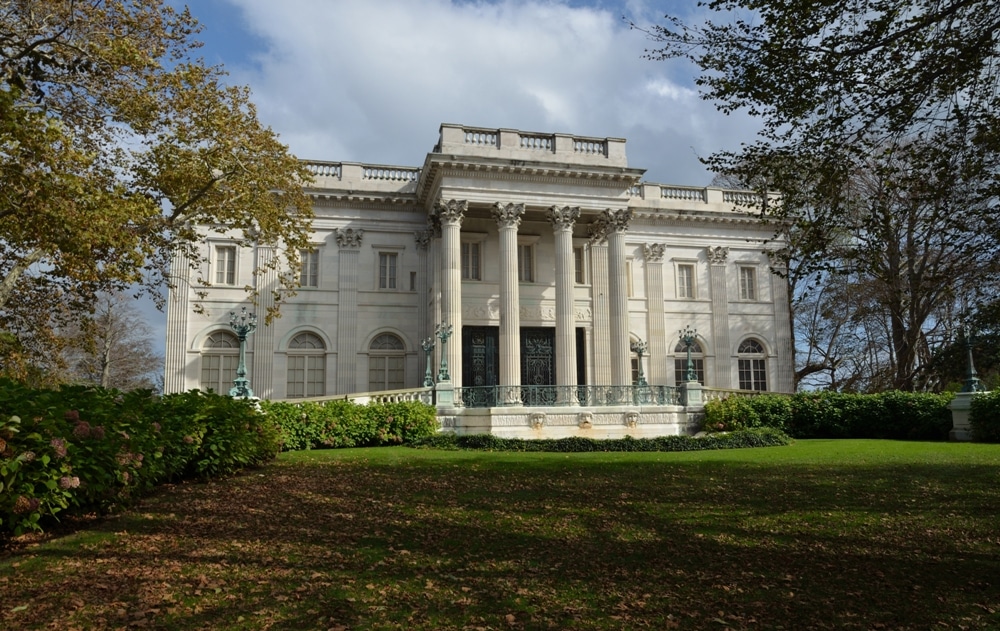 The Marble House of Rhode Island – The Vanderbilts owned a lot of the property in Newport, and their summer home, Marble House, is amongst some of Newport's most incredible mansions. (Another Newport mansion, Rough Point, is just up the road.) The enormous estate was planned by Richard M. Hunt and the construction was finished in 1892. Hunt loved all things French, and his love for Versailles and the Petit Trianon inspired Marble House. Built entirely of French white marble, the entire construction cost about $11 million dollars. In fact, just the marble's cost alone is said to have been $7 million dollars.
Construction began in 1888, and Marble House was intended to be the Vanderbilt's summer cottage. But the term 'cottage' is not a grand enough term to describe this palatial mansion. This home was to become a social landmark, marking the architectural pace of Newport's transformation from a community of modest wooden homes into the opulent resort town it is known as today.
William Vanderbilt's grandfather was Cornelius Vanderbilt, a commodore on the high seas, who brought fortune to the family by means of his investments in both steamships and railroads. William's oldest brother was named after their grandfather, and his infamous Newport home was The Breakers. William's wife, Alva, was one of Newport's leading socialites, and she considered Marble House to be her temple. In fact, it was built and given to her by William as a gift for her 39th birthday.
William and Alva had a daughter and two sons. Their daughter became a Duchess, their middle son a pioneer in auto racing, and their youngest, a yachtsman who won the American Cup three years in a row.
When William and Alva divorced, Alva remarried Oliver Belmont. She left Marble House and moved into the Belcourt mansion, also on this same street. When Oliver passed away, she moved back into Marble House and added a tea room overlooking the cliffs at which she was a hostess for women's movements rallies. She eventually sold Marble House to Frederick Prince. Marble House was added to the National Historic Register in 2006.